Adjustable GAZ coilover shocks are extremely expensive and as a pensioner on a tight budget, a case of principle not to pay that much money.
The other problem with these are the fact that only 9"
(closed)
- 13" inch
(open)
units are available and due to my suspension design I need 9" - 15" units that are even more expensive and a special order.
So I decided to build my own and here is how I went about it.
I bought 4 new Gabriel GAS shocks for the project - original VW Beetle ones and some 50mm diameter
(600mm long)
and 76mm
(300mm long)
diameter round aluminum billet.
Here is my little lathe (screw cutting) where most of the machining was done.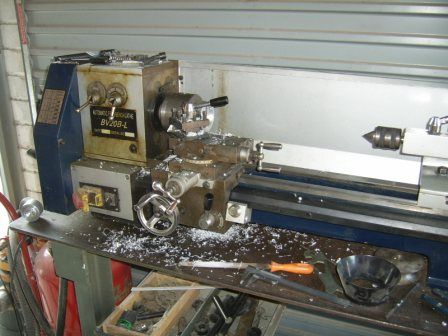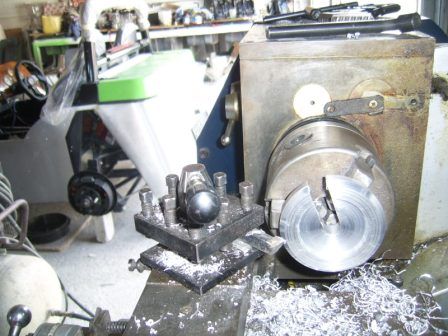 First step was to cut off the dust covers from the shocks. The top part of the dust cover was left in place for the top spring locator to fit to.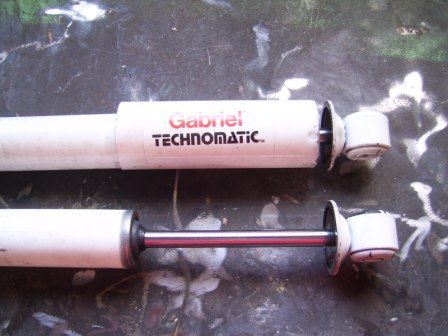 Next step was to get grooves into the shocks to lock the threaded tube in place. After cutting open an old similar shock I find to my dismay that the Gabriel shock body was only 1mm thick
so cutting a 0.8mm deep groove for snap ring or cir-clip like the Bilstein and Koni guys do, is out of the question and after a few Castle lagers I came upon a plan to roll the grooves into the shock body. Since this calls for a deeper and wider groove, contact area is larger and end result much stronger than a snap ring and material not weakened by cutting into it.
For this I used a small 8mm wide ball-bearing with corner edges slightly rounded off. This I T boned on a square bar to fit on tool-post of lathe. Then it is only a matter of spinning the shock in a lathe and run bearing against body and roll smaller to required diameter - mine was done within 0.03mm tolerance. By the way, there is a gap of about 5mm all around between shock body and shock innards.
This is the only bit I did not done on my lathe due to the diameter of the shock to large for spindle shaft hole of my small lathe.
BTW, placement of the groove depends on yourself - I wanted a spring with free length of 220mm and that placed the groove where it is.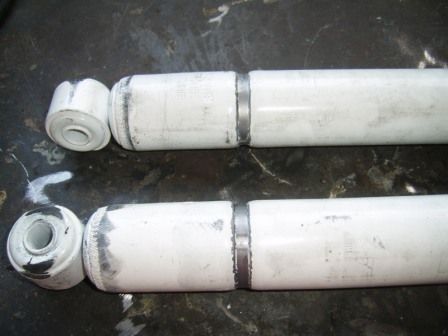 I did experienced with rolling the grooves with round bar and here is an example of 6mm and 8mm pressed into casing - better to use but the locks a bit more finicky to make due to radius, but not really a problem.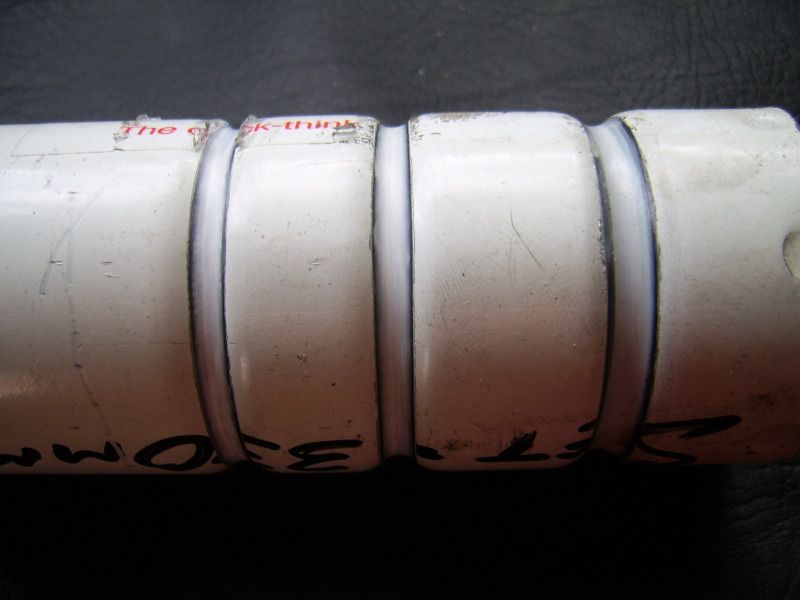 Here are all the bits and pieces made for the shock conversion and the thread cut on the sleeves are 2mm.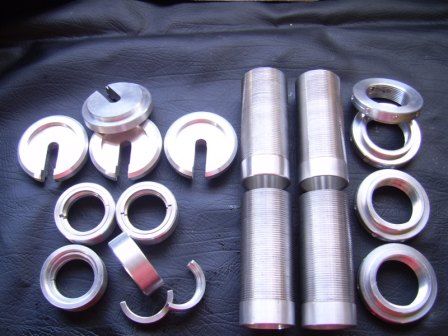 Next picture of the shock and the coilover parts needed to complete.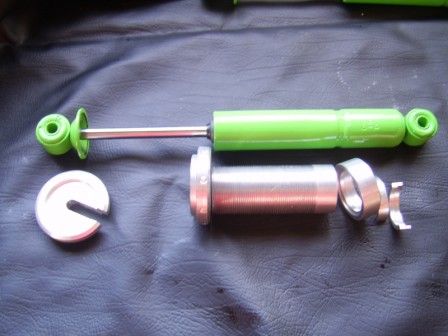 and here are the parts in its position on the shock - note that one half of locking ring already in place. It is "L" shaped and it locks securely into the groove and have an overlap of 10mm down around the shock body for additional strength/ stiffness.
The locking ring sleeve goes over the groove locking half shells - the locking ring sleeve also have a recess op top to centralize the threaded tube. This is a tight/solid fit and the sleeve has to be lightly tapped in place with small hammer.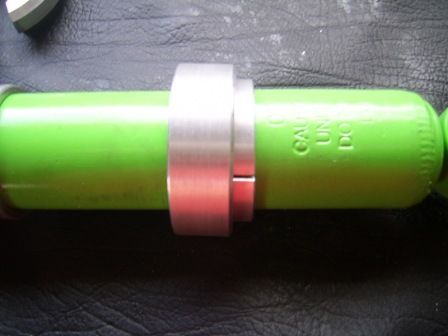 Here are the groove locks fitted and secured by locking sleeve as seen from bottom.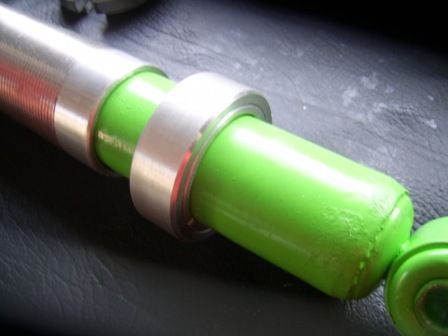 And groove lock fitted seen from top - note the recess for thee threaded sleeve to fit into.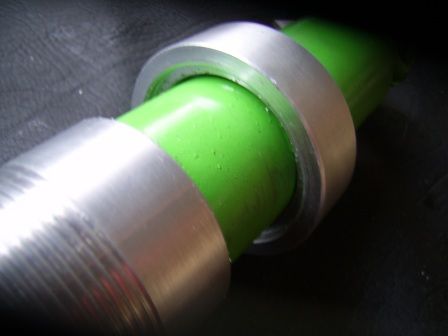 The threaded sleeve pushed into place. A finishing bevel still to be cut on groove lock sleeve corner as is evident in the last picture with the shocks fully assembled.
And here is the top spring holder that fits to shock top.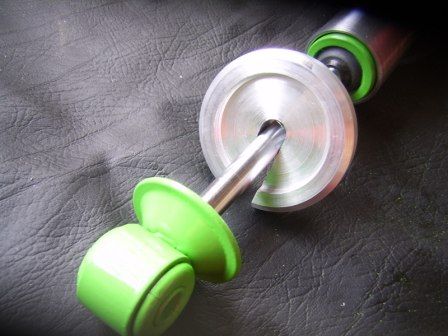 And top spring holder fitted into place.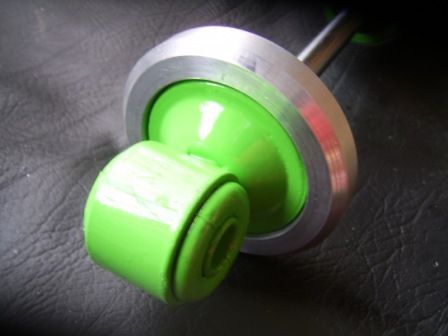 Here is the assembled coilover seen from top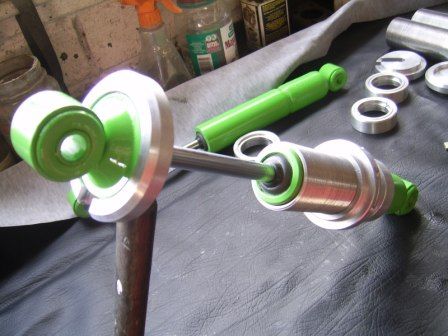 And seen from the side - the spring locator shoulders on top holder and nut is cut for 60mm ID spring.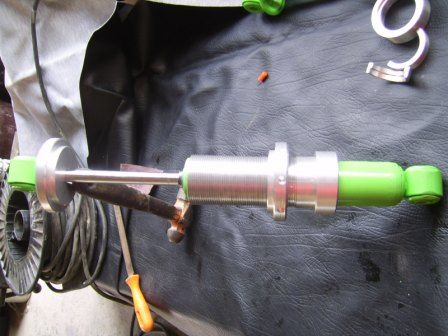 The first pair of coil-overs awaiting springs. Next pair await assembly
Must still turn bump stops from rubber and fit to shocks.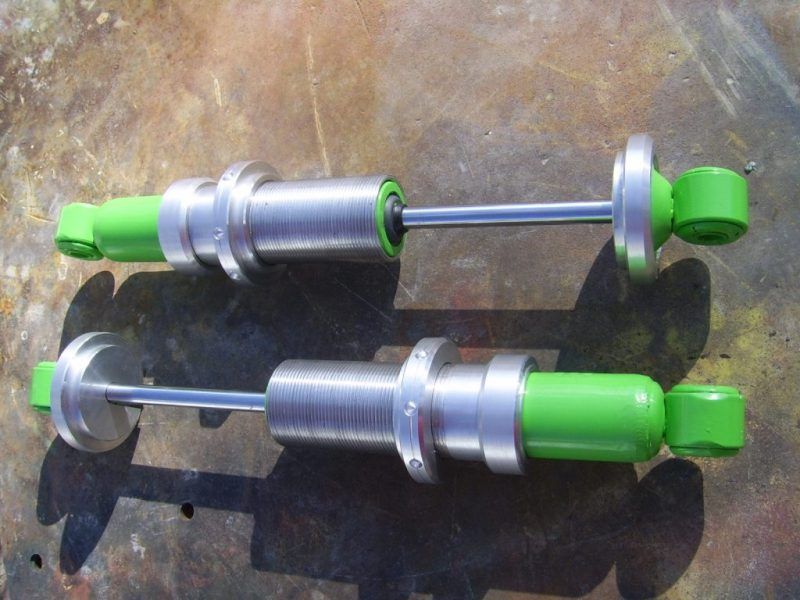 Basically it is a very simple procedure and if you can do it yourself, you can save a packet. I now have decent GAS shocks with 140mm free travel and to replace one is just a matter of taking it apart, get a new shock for about R185, cut off dust cover and ask a machine shop to just run the groove
(your tool supplied)
and take the best part of two minutes - possibly do it for free as was the case with mine - and re-assembled in a few minutes.
My total cost for the set of four DIY coil-overs:
Gabriel gas shocks = R740
(for four)
50mm Diameter x 600mm long & 76mm diameter x 300mm long aluminum stock = R510 (small town pricing
)
Four springs = R840
Total investment for four complete adjustable gas coilovers shocks with springs = R2090.
Before I took the plunge to do it myself, a small engineering concern in town asked me R950 labour charge for the machining of parts if I supplied all the materials myself. Even if I went that way, it would have cost less than half of the cheapest GAZ set
Now I must just decide on a colour for the springs. Any suggestions? Car is Kawasaki green with ally sides and rear panel...