Quite often in the past a newbie would be guided to rather buy a built chassis from a manufacturer rather than building one self by some forum members. Then again, quite often I made my views clear that I would rather build a chassis rather than buying it if you are capable of doing decent welds...which sort of makes me an unpopular person. That said, I based my statement on my 35 years of experience as a fully qualified boilermaker.
Here is the scenario; most if not all chassis build professionally will be welded with MIG process, more commonly known as CO2 welding and this is one of the easiest welding methods to "learn", fact. Just look at your local exhaust outlets and this will become clear.
In a factory / manufacturing engineering concerns most welders are what we call in the trade as operator welders and most of them perform MIG welding. To use a qualified welders for more commonly fabricated work would be to expensive to be competitive in the game, except where procedure welding is called for that changes the whole ball game and qualified expert (read coded) welders and expensive procedures are called upon. I run general steel manufacturing and also steel yacht building concerns for about 20 years before retiring with lots of work done for ESKOM that calls for stringent QC and procedures due to the nature of their business.
Unfortunately, a seven chassis will be classed as a general manufacturing item and be welded by a general welder (read operator) with MIG.
I always warned people that MIG in the hands of a qualified welder, things are OK, but in the wrong hands, it can be lethal. Thats the very reason I built my own chassis and intimately knows every weld, some not beautiful, but did penetrated and fused properly to the parent steel.
A qualified welder will look at a weld and know he is doing things right and if in doubt, most probably do a test piece and subject it to some destructive testing to check fusion. On the otherhand, a general welder, and again most probably an affirmative action candidate, would not go that extra mile and his/her only concern is payday - being there, done that...
And all this ramble brings me to this. I did a few years stint as a boilermaker apprentice instructor and during their welding training phase with the MIG, I would do a few welds - nice and ugly ones - on butt and fillet joints and asked them which in their views are best. To complicate things further, the nicest looking welds will be done with less penetration and will look perfect and usually are chosen by them. When I put the test pieces in a vice and with a fast tap of the hammer knock the weld clean off the steel, the look on their faces are priceless....
And herein lies my concern about "factory welded chassis by the before mentioned welders - when the frame is completely welded and stiffened up by the sum of the welds, it would be very difficult to test the welds and moreso after being shotblasted and powercoated. IOW, a chassis may be a time bomb waiting to fail.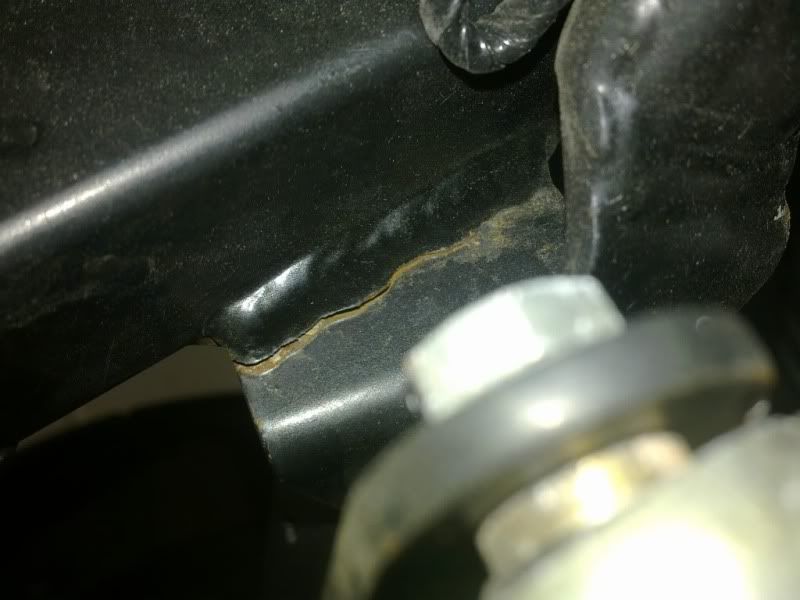 To Illustrate my point here is a picture found a seven's forum elsewhere and shows a suspension bracket weld that failed due to lack of fusion - it is worthwhile to mention it is indeed a "perfect" looking weld and done with MIG. More worrying though is the fact that this picture is of a factory built Westfield chassis...
As a parting note, please do not look upon a home-built chassis as crap, but rather ask why did he built it himself in the first place and before shooting the sheriff, inspect such a chassis before leaving negative comments. Yes, I believe there are some poorly built/welded units out there, but unfair to generalize all self-build units as suspect.
Likewise, if I have to inspect a factory chassis - especially ones build in SA and welded by affirmative action welders, I would knock a few welds off. Food for though
Personally, all the suspension brackets and wishbone welds on my chassis were welded with normal DC arc welding with E312 stainless steel electrodes for excellent strength and toughness and better penetration than MIG in these critical areas. Even TIG welding does not come close when performing a destructive test in similar suspension parts by yours truly.